Bridging Digital Divide: The Challenge of Online Learning in Malaysia
Dr Mohd Faizal Kasmani
Covid-19 has affected every aspect of society, particularly the education sector. Some countries like China and Italy, which were badly hit by the pandemic, have imposed lockdowns, while others like Malaysia are exercising restrictions on their citizens' social activities through Movement Restriction Orders. Either way, they have affected millions of students around the world where the education system at in an almost total halt. In Malaysia, the 2018 statistics showed that there were about 4.65 million students at primary and secondary schools nationwide and there were about half a million students enrolled in public higher education institutions. The figure should be higher by today.
The Movement Restriction Order (MRO) in Malaysia has been imposed nationwide from 18-31 March to contain the Covid-19 outbreak and has been extended to 28 April 2020. One of the directives under the MRO is that all national and private schools and all other lower secondary and pre-university educational institutions need to close during the period. For the education systems in Malaysia, particularly the higher education institutions, the best option is to adopt online learning. But it is not that easy.
The Internet Users Survey conducted by the Malaysian Communications and Multimedia Commission (MCMC) in 2018 showed that the percentage of Internet users in 2018 stood at 87.4%, a 10.5% percentage point increased from 76.9% in 2016. The report said that the upsurge in the number of Internet users in the country was mainly driven by the growth in the mobile broadband segment, with wider access to 3G and 4G/LTE network coverage and improved network quality. From the data, it is safe to assume that adopting virtual learning among students in Malaysia during the Covid-19 MRO would not be an issue.
But the findings do not represent the reality of internet access in Malaysia since the survey was conducted among only 4,160 Internet users in Malaysia. For many Malaysians, there is still a digital divide between underserved areas, where the access to internet broadband or even mobile broadband is lower than the rest of the country. When I surveyed my students in terms of their readiness to have virtual teaching and learning during the MRO, 10% of them answered that they have either no mobile broadband access in their specific area or have very poor internet access. This means it is impossible to have a live lecture or even to download a file. About 14% of them did not answer the survey, which I assume could mean that they do not have access to mobile broadband at all. I understand that I need to strategise the best way of reworking my online course to take up even less bandwidth to be inclusive of learners who have weaker online connections. But in this situation, where almost 25% of students may not have any online connection in their area, conducting e-learning during MRO is not necessarily the best option. I believe the situation could more or less reflect students from other higher institutions in Malaysia as well.
The important point here is that, narrowing the digital divide isn't about improving penetration to places, but to people. If the pandemic Covid-19 worsens and the MRO is prolonged or even a lockdown is imposed in certain areas, then virtual learning ought to be implemented in schools or higher institutions. That, however, only benefits those who have good broadband access. For people who live in underserved areas where the internet is at a very low bandwidth, they only can benefit from online learning designed to have low immediacy such as reading text, images, or notes snail-posted to their home.
For parents and students in higher institution, maybe it is time for them investing in the best internet or mobile broadband access in their specific area so that they are not left behind in terms of online learning. For the academics, in light of the pandemic Covid-19, it is a necessity for them to be ready to shift rapidly from in-person to online learning and deliver online courses that promote inclusivity for learners who have weaker online connections. Most importantly, the government needs to narrow the gap between underserved areas and the rest of the country. This to ensure all Malaysians are covered with quality access to broadband connection so that the implementation of virtual education-related projects can benefit students from all walks of life.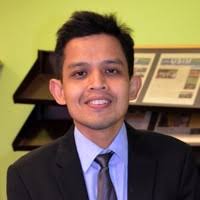 Dr Mohd Faizal Kasmani is an Associate Professor at the New Media Programme, Faculty of Leadership and Management, Universiti Sains Islam Malaysia