Media industry: A sunset industry?
Dr Hizral Tazzif Hisham
The invention of the smartphone played an important role in contributing to newspaper circulation. The smartphone converged segregated media into one, where people can interact, watching TV, making a phone call or listening to the radio.
Traditional media, in contrast, has one and the only channel to distribute contents to its audience. Through printing medium, for example, texts and pictures are printed on newspapers for circulation. As with other industry approaching their declining period, the newspaper industry is expected to continue with a decline in distribution.
The media industry, particularly the newspaper and broadcasting industry,  has been described by many as a sunset industry. Not only in Malaysia, but it is a worldwide phenomenon. In Malaysia, the scenario can be based on several recent events in the local media industry, involving the biggest media company in Malaysia, Media Prima, in which hundreds of media workers have been offered a voluntary separation scheme (VSS).
In a statement, Media Prima Bhd, parent to New Straits Times Press (NSTP), the lay-offs was part of a wider retrenchment announced in November last year. The new operating structure and the list of affected employees were determined after several consultations with the Sistem Televisyen Malaysia Bhd Employees Union, TV3 Executive Union, National Union of Journalists Peninsular Malaysia (NSTP branch) and National Union of Newspaper Workers.
This moves can be attributed to the decline in revenue faced by the media company. Last month, Media Prima saw its net loss widened to RM73.4 million for the cumulative nine months ended Sept 30, 2019 (9MFY19), from RM20.58 million a year ago, on a 10% decline in revenue to RM801.41 million from RM894.84 million.
According to a report by Edge Markets traditional advertising and circulation revenues dropped 15% and 21% respectively versus those for the corresponding period. Overall cautious spending contributed to declines in revenues across the group's business segments. The National Union of Journalists (NUJ), NSTP branch chairman Farah Marshita Abdul Patah said the total affected employees was 543 or over 40% of 1,200 to 1,300 strong-employees in NSTP's publications stable of the New Straits Times, Berita Harian and Harian Metro. Their employment was said to end on March 12, 2020. She said bureaus nationwide would be trimmed to five from 14 currently, with departments in the east coast (Pahang, Kelantan and Terengganu), in the north (Penang, Kedah, Ipoh and Perlis) and south (Johor, Negeri Sembilan and Melaka) to be merged. The Shah Alam and Putrajaya bureaus will also be merged, while Sabah and Sarawak will have a bureau each. (www.theedgemarkets.com)
In October last year, Utusan Melayu, a pre-independence Malay nationalist newspaper set up in 1939, was forced to seize operations following a resolution by its new board of directors for a voluntary debtors closure. The historic decision was established soon after Media Prima major shareholder, Aurora Mulia Sdn Bhd, bought more than 70 per cent stake in Dilof Sdn Bhd, a subsidiary of Utusan Melayu which eventually wiped out Utusan Melayu's 80 years of experience in the Malaysian newspaper Industry. Utusan Melayu's sustainability had long been linked to the 'life-line' provided by UMNO, the then ruling party since independence in 1957. However, the 14th general election in 2018 reduced UMNO and its Barisan Nasional coalition to becoming opposition, losing grip to Pakatan Harapan, a group of opposition parties united with the common objective of overruling the BN. A huge bloc of UMNO/BN linked entities such as Utusan Melayu were then put into 'Rest In Peace". Facts aside, the rationalisation initiative was said aimed at salvaging Media Prima while punishing Utusan Melayu for its editorial failure to adapt accordingly.
iPhone IMPACT
Nevertheless, looking back, the falls of newspaper circulation could be dated back since US business magnate cum innovator, Steven Paul Jobs invented iPhone on June 29, 2007. The iPhone put the Internet in everyone's pocket, transformed photography from hobby to part of everyday life, changed the way software was created and distributed, changed everything – even how people work and became our fastest-growing obsession, transforming the advertising industry and led the Android ecosystem, as well as boosting companies like Samsung and ruining BlackBerry and Nokia, among others.
Steve Jobs never thought that the iPhone invention was a revolution in the communication industry. When asked about killer apps offered by iPhone, Jobs simply said that 'it's about calls'. Nokia, Motorola and Samsung were then the biggest cellular phones producer in the world.  But in its 2006 fiscal year, Apple generated US$1.9 billion of profit on US$19.3 billion of revenue. In 2018, it generated US$45.6 billion of profit on US$215.6 billion of revenue. The iPhone drove 63 per cent of its sales in 2018 (www.britainnica.com)
Job's idea to include the Internet and various other applications have enabled smartphones to not only acted as a telephone but also transform it into an integrated media platform. Smartphones can perform almost everything when installed with applications such as Whatsapp and Telegram – be it to communicate either in text, audio or video. At Macworld 2007, Job's demonstrated how easy to use the iPhone. By scrolling available applications on the iPhone to open up a security key, and using only one finger to command, the iPhone certainly convinced to be a truly killer apps.
Ever since, other brands such as Vivo, Oppo, Honour, Huawei and Samsung imitated the iPhone invention, which in turn, flooding the smartphone markets. Added with a reasonable price, the smartphone becomes a popular choice among enthusiasts.
According to a Hootsuite study in January 2017, out of 30.96 million population in Malaysia, 22 million or 71 per cent of them are using the internet, 42.93 million are smartphone users, with each of them having more than 2 smartphones and that 20 million of them are actively retrieving information via social media. Fuelled further, the younger generation (millennium generation) is not interested to read the newspaper anymore. Instead, they opted for Instagram, Facebook or YouTube as the source of news.
The above scenario obviously poses a serious threat to the survival of traditional media.
Traditional media, with a matured system, has been established hundreds of years ago. Its ownership often reflected in the spread of influence by Western media companies. Most of them are corporations evolving into media giants (Croteau & Hoynes, 2003). Traditional media has a limited channel to distribute contents to its audience, which is through printing medium, texts and pictures are printed on newspapers for circulation. With the transformation in signal orientation, moving pictures were transmitted into mediums namely cable or satellite before sending it back to television. The signal will then be reverted to moving pictures and broadcast to the audience.
The onset of Information and Communications Technology (ICT) and the Internet marked the birth of the new media. It does not take a long time to grow compared to traditional media as the acceptance level among its audience is almost sudden. Internet reaches its 50 million users in 7 years, compared to 50 years for telephone and 20 years for television. With the new structure and the new market, the new media immediately becomes an alternative and prominent medium compared to the traditional one.
Unlike traditional media, the Internet can be expanded to reach an audience at any time, anywhere and in various channel. Digitalised media contents eased up the process of distributing it to other platform either through computers, laptops, smartphones or console games. Viewing time has also become flexible especially when applications are made mobile. The flexibility enables contents to be sourced from other applications as well.
Traditional media reaches is readers and listeners both inside and outside the country. Although globalisation strategy from giant media conglomerates allow contents to be sold at the international level, the high distribution costs, however, limit them from doing so. On the other hand, distribution costs through the internet are far cheaper permitting newspapers readers to not only confine to internet countries or origin country alone.
The new media attracted international readers as they can access information easily. Distribution of news can be made within a split of seconds while updating it becomes very easy.  For example, news from physical newspapers often provided days earlier. If it is to be updated, physical newspapers will have to wait until tomorrow for printing. However, through the internet, the updating process becomes more efficient.
Readers do not have to wait long for news. They can obtain it immediately in real-time. The Internet also reduces distribution costs as it is cheaper for digital processes to be made available throughout the world. Technology integration facilitates this processes despite various interpretation by academia over the subject. The various interpretation and definitions were mainly due to diverse technology-based business strategies adopted by traditional media. Earlier studies were unconvinced with media integration.
Human communication has entered the fifth phases which emphasise interactive communication marked by technology based on the Internet and Computing (Siti Ezaleila and Azizah Hamzah, 2011). Information derived is different from printing technology or broadcasting era as the new media embrace convergence characteristics, digital networking, global reach, interactive and that mass communication gather various communication element such as verbal, writing, visual, data and sound using computer and telecommunication gadgets before integrating it in one platform (Siti Ezaleila dan Azizah Hamzah, 2011).
The integration not only refers to various multi-platforms, but also combined experience from various perspectives of mainstream media, including production, television, film, radio and several other aspects of new media. The integration contributes to professional media content and distributes it using multiple platforms mainly internet and electronic applications. Several likely steps to enable media companies to achieve smooth integration target, including communication, commitment, co-operation, compensation, culture, competition and customer.
In conclusion, the media industry is expected to continue with a decline in distribution. As such, constructive efforts should navigate towards rejuvenating the media industry by introducing a new business model to correspond with the emergence of the new media.
References
https://www.freemalaysiatoday.com/category/bahasa/2019/12/16/biro-digabung-543-pekerja nstp dihentikan/ Retreived on 2nd January 2020.
https://www.theedgemarkets.com/article/over-40-nstp-staff-receive-notice-layoffs
https://www.wired.com/2017/01/apple-iphone 10th anniversary/ Retreived 2nd of January 2020
https://www.britannica.com/biography/Steve-Jobs/Saving-Apple
Croteau, D. &Hoynes, W. (2003).Media society: Industries, images, and audiences. California: Pine Forge Press.
Siti Ezaleila dan Azizah Hamzah (2011), Media Baharu yang baharu: Trend Penggunaan Jaringan Sosial Dalam Kalangan Pengguna di Malaysia,Jurnal Pengajian Media, Vol 13, No 2 muka surat 93-109,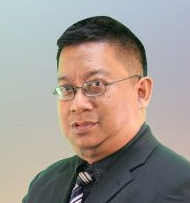 Dr Hizral Tazzif Hisham is a Senior Lecturer in New Media Communication Programme. He has vast experience in journalism. Before joined the academic world he worked as a Journalist for Berita Harian and as an Assignment Editor with Bernama TV. He has more than 22 years of experiences in the media industry covering print and broadcasting media.
"IN OTHER WORDS" is a discussion forum that talks about current issues related to the well-being of the society.

Academics, students and the general public are welcome to contribute their thought. Please email

ssharizal@usim.edu.my

for article submission.