BACKGROUND
· FKP e-innovation Competition 2021 is a program inspired by the faculty of Leadership and Management as a starting point for academic staff and students of FKP in producing innovations either from research results or their teaching and learning activities.
· The e-Innovation Competition 2021 is a following series of Innovation Competitions that were held for the first time in 2019. The difference this time is the competition will be held virtually (online).
· This program provides an opportunity for academic staff and students of FKP to share their ideas and innovations as well as provide exposure and inject the spirit of innovation culture to USIM staff in general and to FKP staff in particular.
OBJECTIVE
The objective of this program is to provide opportunities for academic staff and students of the Faculty of Leadership and Management, USIM to participate in research innovation competitions as well as their teaching and learning at an affordable fee rate.
MAIN COMPETITION CATEGORIES
1) Staff (individual or group)
2) Students (individual or group)
* ALL PRESENTATIONS ARE 100% VIRTUAL
ABSTRACT SUBMISSION
*Dateline : 5 October 2021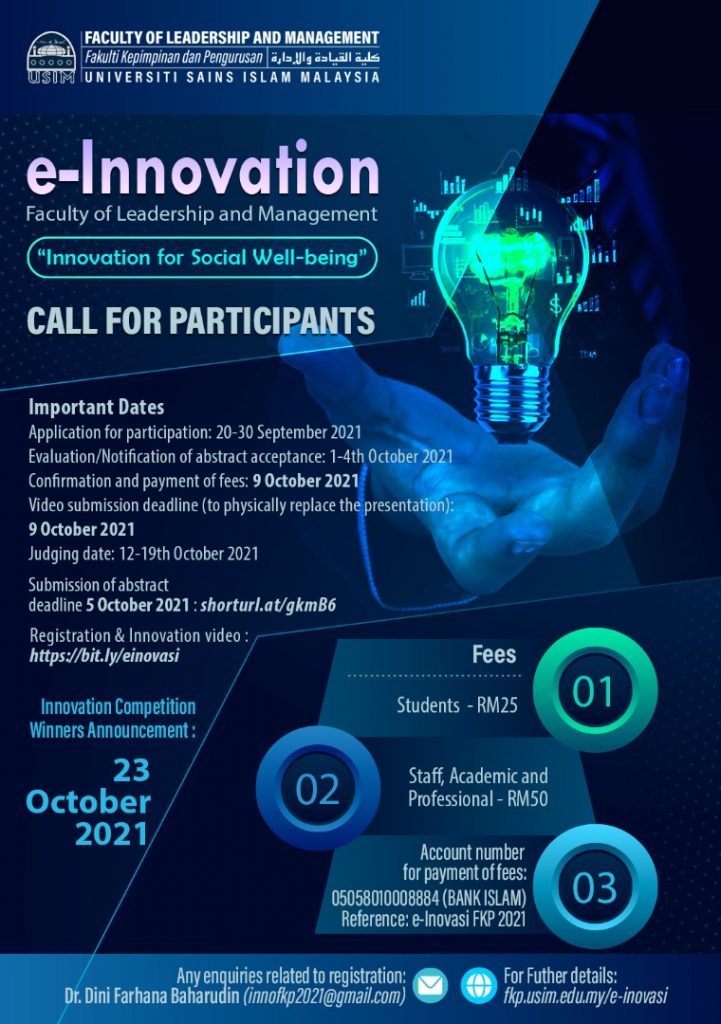 Never had an experience competing in any innovation compettition?
Join e-inovasi and learn with us! We open coaching sessions to help you with tips and methods to enter innovation competitions to join e-Inovasi with confidence!
Here are our experienced coaches: Assoc Prof Dr Amin al-Hadi, Dr Rezki, Dr Dini Farhana, Dr Siti Suriani.
We are ready to guide you on
1. writing the abstract
2. brainstorming for potential product or innovation idea
3. producing videos for virtual innovation competitons
It is free and open to all.
To join, fill in the google form and we will contact you for the coaching sessions on 3 and 6 Oct 2021
Deadline of registration for the coaching session is 2 October 2021.
GUIDELINES
1. The theme is "Innovation for Social Wellbeing". The idea of innovation should be in line with the theme.
2. Participation is OPEN to all FKP members. Each participant is allowed to submit more than one (1) entry.
3. Entries must be accompanied by a completed competition entry form. The link of Google form https://bit.ly/einovasi.
4. An innovation project or innovation idea is presented in a video in 10-12 minutes. Video MUST be uploaded on Youtube and fill out a Google form along with a video link and proof of payment. Submit all these in the Google form provided https://bit.ly/einovasi
5. The secretariat will reload the video to the Youtube channel. This is to help the jurors evaluate the entries participants. Applications must be submitted together with the abstract within the period specified for considered for participation in the competition.
6. Design and innovation must be the result of one's own invention and originality. The Secretariat has the right to drop entries or withdraw prizes already won if found that the idea of the innovation/product submitted was not original and plagiarized.
7. The decision of the panel of judges is FINAL. Any appeal will not be entertained.
FEES
1. Academic and Professional (FKP, USIM) RM50
2. Students (FKP, USIM) RM50
IMPORTANT DATES
Application for participation:

20-30 September 2021

Submission of abstract Dateline

30 September 2021

: shorturl.at/gkmB6
Evaluation/Notification of abstract acceptance:

1-4 October 2021

Confirmation and payment of fees:

9 October 2021

Video submission deadline (to physically replace the presentation):

9 October 2021

Judging date: 12-19th October 2021
Innovation Competition Winners Announcement:

23 October 2021
Account number for payment of fees: 05058010008884 (BANK ISLAM)
Reference: e-Inovasi FKP 2021
Any enquiries related to registration: Dr Dini Farhana Baharudin (dini@usim.edu.my)