Bachelor of Dental Surgery (BDS)
PROGRAM DETAILS
Programme Code:
QD00
Medium of instructions:
English and Arabic
Duration of Studies:
- Full Time: 5 years
The Faculty of Dentistry at USIM conducts a five-year undergraduate educational programme leading to the degree of Bachelor of Dental Surgery. Successful candidates shall be awarded the degree BDS (USIM). The curriculum uses an outcome-based approach to education and student assessment. This five-year programme is divided into two phases. The Basic Science Phase (Phase I) consists of the first and second years while the next three years are considered as the Clinical Phase (Phase II). The basic science phase is designed to equip students with a strong foundation and understanding of basic medical and dental science subjects before entering the clinical phase. Whilst the Clinical Phase (Phase II) is most important in that the educational activities are organised so that they are able to apply the knowledge and skills in the clinical set-up.
Objectives of the Programme
The Faculty of Dentistry, Universiti Sains Islam Malaysia (USIM) produces graduates who are:
Scientifically knowledgeable and technically competence and biologically orientated for safe and independent practice of dentistry;
Professionally accountable, ethically responsible and exhibit Islamic conduct and values in provision of oral health care;
Socially sensitive by demonstrating respect for dignity of patients, other individuals, colleagues and other health care professionals without prejudice to socio-economic status, ethnicity, language, culture and religion;
Effective team members and leaders of dental teams in the provision of oral health care for individuals and community; and
Continually striving to update knowledge and skills in contributing to oral health of patient and progress of ummah.
Learning Outcomes
At the end of the five-year Bachelor of Dental Surgery (BDS) programme at the Faculty of Dentistry, Universiti Sains Islam Malaysia (USIM), students are able to:
Apply basic medical and clinical sciences to ensure appropriate diagnosis and treatment of patients;
Carry out specific treatment interventions required to prevent, restore or maintain patient's oral health;
Apply critical thinking and problem solving while providing the oral health care of patients;
Demonstrate appropriate communication skills with patients, their families, colleagues and other health care professionals for effective delivery and promotion of oral health;
Demonstrate respect of patients and colleagues, and sensitive to issues of the community;
Source information for continuing professional development for quality oral health care to patients and community;
Manage dental practice effectively and efficiently;
Conduct practice of dentistry in a professional manner with consideration of ethical and legal responsibilities as well as universal Islamic values; and
Demonstrate leadership and teamwork skills with colleagues and other oral health personnel in the delivery of oral health care.
Passed General Certificate of Education (GCE) Ordinary Level (O Level) / Equivalent or other qualifications recognized by the University Senate; and
Obtained at least FOUR B (b) in the subjects below:
Physics
Chemistry
Biology
Mathematics
Additional Mathematics
English Language; and
Obtained at least grade C (c) in the subjects below:
Arabic Language
ONE (1) subject relating to Islamic Studies
General entry requirement for Bachelor Degree Programme for International Students are as follows:
Senior High School / Senior Secondary School / other equivalent pre-university examinations from government schools (with the period of at least 11 to 12 years of study from primary to higher secondary); OR
General Certificates of Education (GCE) 'A' Level / Diploma in related fields or other equivalent pre-university examinations; OR
Any other certificate that is recognized by the senate of the university as equivalent to the above; AND
Specific entry requirements based on programmes; AND
Credit in one (1) Islamic Studies subject; AND
Fulfilled English Language Proficiency Requirement; AND
Fulfilled Arabic Language Proficiency Requirement.
Registration Fee

Tuition Fee

Accomodation Fee

Other Services Fee

Total (1st Semester)

Total Fees (Complete Duration of Studes)

Once (1st Semester Only)

(Every Semester)

960.00
45,000.00
1,580.00
655.00
48,195.00
480,990.00
*Fees are correct at time of publications (Academic Session 2019/2020) and are subject to change.
*Fees quoted in Ringgit Malaysia.
*Fees quoted DOES NOT INCLUDE Personal Bond Deposit and VAL Applications fees
Contact Us
Centre for Marketing and Student Admissions
Level 1, Chancellory Building
Universiti Sains Islam Malaysia (USIM)
Bandar Baru Nilai, 71800, Nilai, Negeri Sembilan, MALAYSIA

Phone: +606 798 8055 / 6002
Email: admission@usim.edu.my
Testimonial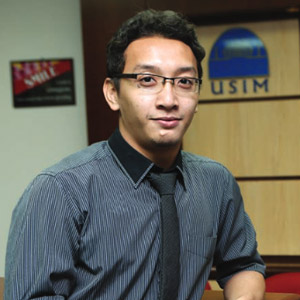 Studying in the FPg, USIM gives me a new experience which I may not get in other universities or any other places. What I actually mean is that, here we have a very friendly environment which includes the relationship between lecturers, staff and students or between us and the patients. This kind of experience could help us develop our personal soft skills to communicate with patients, colleagues and supervisor in the future."
Education:
Bachelor of Dental Surgery (BDS)
Related Information
Related Links