Bachelor of Accounting with Honours
PROGRAM DETAILS
Programme Code:
QE02
Medium of instructions:
English and Arabic
Duration of Studies:
- Full Time: 4 years (8 semesters)
The Bachelor of Accounting with Honours programme is offered in line with the development of USIM and the faculty. The number of accounting graduates is still small and the percentage of bumiputras in this area is low. This programme, therefore, could contribute in alleviating the shortages and meeting the need of public and private sectors. This programme offers an integrated programme that could meets the need of the market.
HASIL PEMBELAJARAN PROGRAM (HPP/PEO)
| | |
| --- | --- |
| HPP1 | Mampu mensintesis isu-isu kontemporari berkaitan dengan perakaunan dengan mengintegrasi ilmu Naqli dan Aqli bagi menjana perkhidmatan yang berkualiti. |
| HPP2 | Berkelayakan memimpin dan melibatkan diri secara berpasukan dalam menyelesaikan isu dalam bidang perakaunan melalui gerakkerja, komunikasi dan tatacara perakaunan yang rapi dan efektif. |
| HPP3 | Mampu mempamerkan kemahiran keusahawanan dan menyedari keperluan pembelajaran sepanjang hayat untuk pembangunan kerjaya yang berjaya seiring dengan perkembangan ICT. |
| HPP4 | Mengamalkan nilai-nilai integriti, etika dan profesional dalam menyumbang kepada keperluan masyarakat. |

HASIL PROGRAM (PO)
| | |
| --- | --- |
| HP1 | Menganalisis dan mengaplikasi teori-teori asas dalam bidang perakaunan (LO1/PO1: Elemen Pengetahuan) |
| HP2 | Mengaplikasi kemahiran-kemahiran yang berkaitan dengan perakaunan (LO2/PO2: Elemen Kemahiran Teknikal/ Praktikal/ Psikomotor) |
| HP3 | Mempamerkan semangat bekerjasama, kebertanggungjawaban dan kemahiran sosial dalam pelbagai situasi (LO3/PO3: Kemahiran dan Tanggungjawab Sosial) |
| HP4 | Mengamalkan nilai-nilai integriti, etika dan profesional dalam menyumbang kepada masyarakat (LO4/PO4: Nilai, Sikap dan Profesionalisme) |
| HP5 | Berkebolehan untuk memimpin, bekerja dalam pasukan dan berkomunikasi secara berkesan dan berhikmah (LO5/PO5: Kemahiran Komunikasi, Kepimpinan dan Kerja Berpasukan) |
| HP6 | Mengenalpasti, menganalisis dan menyelesaikan isu-isu kontemporari berkaitan bidang perakaunan (LO6/PO6: Kemahiran Menyelesaikan Masalah dan Kemahiran Saintifik) |
| HP7 | Berkebolehan menguruskan maklumat dan melibatkan diri dalam pembelajaran sepanjang hayat (LO7/PO7: Kemahiran Pengurusan Maklumat dan Pembelajaran Sepanjang Hayat) |
| HP8 | Berupaya mengurus organisasi dan mempunyai minda dan kemahiran keusahawanan (LO8/PO8: Kemahiran Mengurus dan Keusahawanan) |
CAREER PROSPECTS
Auditor, Account Executive, Tax Consultant, IT Advisor, Account Officer, Academician
(1) Mendapat sekurang-kurangnya Gred B (NGMP 3.00) pada peringkat STPM dalam mata pelajaran berikut:
Perakaunan
Mathematics (M)/Mathematics (T)
dan
(2) Mendapat sekurang-kurangnya Gred C+ (NGMP 2.33) pada peringkat STPM dalam mata pelajaran berikut:
Ekonomi/Pengajian Perniagaan
dan
(3) Mendapat sekurang-kurangnya Kepujian (Gred C) pada peringkat SPM dalam mata pelajaran berikut:
Bahasa Arab/Bahasa Arab Tinggi/Bahasa Arab Komunikasi
Prinsip Perakaunan
Mathematics/Additional Mathematics
Mana-mana DUA (2) daripada mata pelajaran berikut:

Pendidikan Islam/Tasawwur Islam/Pendidikan Syariah Islamiyyah/Pendidikan al-Quran dan as-Sunnah/Hifz Al-Quran/Maharat Al-Quran
dan
(4) Mendapat sekurang-kurangnya Lulus (Gred E) pada peringkat SPM dalam mata pelajaran Bahasa Inggeris
dan
(5) Mendapat sekurang-kurangnya Tahap 2 (Band 2) dalam Malaysian University English Test (MUET)
(1) Mendapat sekurang-kurangnya Gred C+ pada peringkat SPM dalam mata pelajaran Prinsip Perakaunan
dan
(2) Mendapat sekurang-kurangnya Kepujian (Gred C) pada peringkat SPM dalam mata pelajaran berikut:
Bahasa Arab/Bahasa Arab Tinggi/Bahasa Arab Komunikasi
Mathematics/Additional Mathematics
Mana-mana DUA (2) daripada mata pelajaran berikut:

Pendidikan Islam/Tasawwur Islam/Pendidikan Syariah Islamiyyah/Pendidikan al-Quran dan as-Sunnah/Hifz Al-Quran/Maharat Al-Quran
dan
(3) Mendapat sekurang-kurangnya Lulus (Gred E) pada peringkat SPM dalam mata pelajaran Bahasa Inggeris
dan
(4) Mendapat sekurang-kurangnya Tahap 2 (Band 2) dalam Malaysian University English Test (MUET)
(1) Memiliki Diploma dalam bidang Perakaunan dan Percukaian dengan mendapat sekurang-kurangnya PNGK 3.00
dan
(2) Mendapat sekurang-kurangnya Kepujian (Gred C/6C) pada peringkat SPM dalam mata pelajaran berikut:
Bahasa Arab/Bahasa Arab Tinggi/Bahasa Arab Komunikasi
Mathematics/Additional Mathematics
DUA (2) daripada mata pelajaran berikut:

Pendidikan Islam/Tasawwur Islam/Pendidikan Syariah Islamiyyah/Pendidikan al-Quran dan as-Sunnah
dan
(3) Mendapat sekurang-kurangnya Lulus (Gred E/8E) pada peringkat SPM dalam mata pelajaran Bahasa Inggeris
dan
(4) Mendapat sekurang-kurangnya Tahap 2 (Band 2) dalam Malaysian University English Test (MUET)
(1) Mendapat sekurang-kurangnya Gred B (3.00) pada peringkat Matrikulasi/Asasi dalam mata pelajaran berikut:
Accounting/Accountant in Business/Financial Accounting/Management Accounting
Mathematics/Ekonomi/Pengurusan Perniagaan
dan
(2) Mendapat sekurang-kurangnya Kepujian (Gred C) pada peringkat SPM dalam mata pelajaran berikut:
Bahasa Arab/Bahasa Arab Tinggi/Bahasa Arab Komunikasi
Mathematics/Additional Mathematics
DUA (2) daripada mata pelajaran berikut:

Pendidikan Islam/Tasawwur Islam/Pendidikan Syariah Islamiyyah/Pendidikan al-Quran dan as-Sunnah/Hifz Al-Quran/Maharat Al-Quran
dan
(3) Mendapat sekurang-kurangnya Lulus (Gred E) pada peringkat SPM dalam mata pelajaran Bahasa Inggeris
dan
(4) Mendapat sekurang-kurangnya Tahap 2 (Band 2) dalam Malaysian University English Test (MUET)
Bagi pemohon warganegara, permohonan kemasukan ke USIM bagi lepasan STPM/STAM/Matrikulasi dan Diploma/Setaraf adalah melalui aplikasi dalam talian UPU online. Capaian maklumat dan borang permohonan adalah melalui laman web rasmi kemasukan ke Universiti Awam (UA) di http://upu.moe.gov.my
Contact Us
Centre for Marketing and Student Admissions
Level 1, Chancellory Building
Universiti Sains Islam Malaysia (USIM)
Bandar Baru Nilai, 71800, Nilai, Negeri Sembilan, MALAYSIA

Phone: +606 798 8055 / 6002
Email: admission@usim.edu.my
Testimonial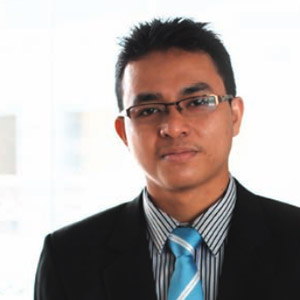 The integration of Naqli and Aqli knowledge at USIM makes me more knowledgeable and gives me more insights into the concept of syariah-compliant in finance and economy. This would help me to further advance the understanding and application of Islamic finance and economy not only in Malaysia but to the world as a whole."
Education:
Bachelor of Accounting with Honours
Related Information
Related Links